Download the FTP Program to your desktop
This is only necessary if you don't already have an FTP program installed on your computer.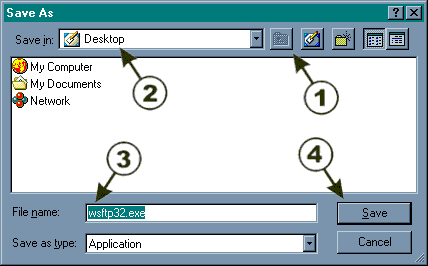 Click here to start downloading the FTP Client program WSFTP32. This program is an FTP client that allows you to use FTP (or File Transfer Protocol) to transfer large files to and from an FTP server (a computer that handles the transfer of files using FTP).
After you click on the link above, a standard Windows 95/98 Browse Window like the one pictured above will appear. If you have Windows ME, Windows 2000 or Windows XP, the window will look slightly different, however the functionality will be similar.
Click the "Up One Level" button several times until the button becomes shaded. The actual number of times will vary based on the current folder you are viewing.

The folder in the "Save in:" drop down list should be "Desktop".

The filename in the "File name:" box should be "Wsftp32.exe".

Click the "Save" button.
You have just saved the installation file "Wsftp32.exe" to the desktop of your computer, where it will be easy to find. Next, you will need to install the program on your computer.