Frequently Asked Questions
How much does the evaluation cost?
There is no charge for the evaluation.
What are the chances of you being able to repair my file?
Our track record shows that we are able to repair over 80% of the database files submitted to us.
What is included in the evaluation?
The evaluation comes to you in the form of an Adobe Acrobat Reader "pdf" file that you can print as long as you have Acrobat reader on your computer. The evaluation will include a list of all of the objects (tables, queries, forms, reports, macros & modules) in the database that were repairable. The following is a sample evaluation.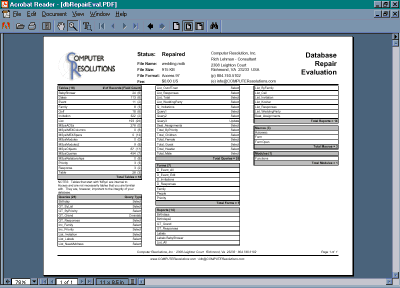 Click on the image to download the sample pdf document.
For tables, the evaluation will list each table along with the total number of records recovered from each table, and the number of fields that are part of the table structure. For queries, the evaluation will list each query and the type of query (select, append, union, etc.) For all other objects (forms, reports, macros, modules), the evaluation will simply display a list of repaired objects.
We strive to give you an evaluation that will help you to determine the extent of the repair. Should you require further information please contact us and we can provide data query totals information as per your requirements. For example, if your main table was a table of customer orders called "Orders" we could run a query that would show you dates with the number of orders from each date.
Query Example

Order Date
3/1/16
3/2/16
3/3/16
3/4/16
3/5/16
3/6/16
3/7/16

# of Records
26
43
17
32
37
41
28

etc.
You may not need this type of evaluation as the simple evaluation may be enough information for you to make a decision. Obviously, this information could be useful to you in evaluating our evaluation.
How much does the repair cost?
The repair varies in price based on the extent of the damage, how long it takes to repair the file and what measures that we have to take to repair your database file. We offer a quote as part of the free evaluation.
What can I do to try to fix the file myself?
Access has a repair utility built into the standard program. This repair utility works sometimes depending on the type of corruption to the database. Microsoft has a free repair and compact utility (on its website) that is slightly better called JetCompact. This utility is sometimes able to repair files that the standard Access repair and or compact utility is not able to repair. Although the difference in results are not overly significant between the two, you should try these methods (ON A COPY OF YOUR CORRUPT DATABASE) before submitting your file to us.
In order to give us the best chance of repairing your file, send us a pristine copy of your corrupted file, one that you have not attempted to repair with any Microsoft utility.
How long does it take for you to evaluate and repair our file?
Depending on our workload, we can often turn your file around to you, repaired, within one hour.
We guarantee that we will evaluate your file within one business day. Our business hours are not standard and we can often respond to your request with an evaluation and a repaired file at all hours of the day. Our goal is to repair your file 100% and get you up and running.
Do you need a good copy or backup for the repair?
We do not NEED the backup file to repair the data from your corrupted file. However, a complete recovery involves several things. First, we attempt to repair the data from your corrupted file. Next, assuming that we are able to repair the corrupted data, there are still four things that can cause problems with the data when you try to use the repaired file.
Missing Tables - Sometimes a single table in a database with many tables causes the corruption. Quite often that table (and the data therein) is not recoverable. By looking at a previous backup, we are able to determine the missing table(s), and if necessary, we can import those tables into the recovered database. We inform you of the table or tables that are missing (if any) and consult with you about the potential ramifications.

Missing Indices - Missing indices will often cause third party software (that uses an Access database file as the database) to malfunction because the indices that are supposed to be there are not. Sometimes we are able to repair the indices without a backup, however with a good backup, we can compare the good backup with the repaired file and restore any indices that are missing.

Missing Relationships - Just like missing indices, missing relationships can often cause problems to your database and allow your database file to store inconsistent data. We will repair all repairable relationships based on the defined relationships in your good backup file. If we run into a situation were a relationship cannot be re-established in the repaired database, we consult with you about the potential ramifications.

Inconsistent or incorrect field property settings - We will again draw from a previous backup all of the field property settings and restore them all as part of our repair process. Each field in each table can contain 20-30 property settings. Multiply that number by the amount of fields in each table, multiplied by the number of tables, and you see how this can be a monumental task to accomplish. We repair all field properties as part of our standard repair service.
Do you charge for a partially repaired file?
We do not always know whether a file is partially or completely repaired. It is up to you to determine if our evaluation meets your expectations, before accepting it and making a payment. If you provide us with the most recent backup of your corrupted database file, we are often able to make a determination as to the extent of the repair, which we include in our evaluation to you.
How can I pay for the repair?
Currently we only accept checks, PayPal or money orders.
Why is my repaired file smaller than my corrupted file?
There are many things that cause the size of an Access database to increase. When records are added, objects (tables, queries, forms, reports, macros & modules) are copied, temporary tables are populated with data, etc. People often think that as data and/or objects are deleted from the database file that the size of the file will decrease. This is not true. The only thing that reduces the size of an Access database file is using the Access COMPACT utility. This utility will reduce the size of the Access database down to it's most efficient size.
When we repair a database, we compact the database as part of our process of recovering your data. Therefore, you may find that the corrupted file that you send us, and the repaired file that we send you may be significantly different in size, yet similar in the actual number of objects and records recovered.
Why do I need to zip my file before I send it?
Access databases are not very compact for their size. Typically, an Access database will be reduced to 25% of its original size once it is zipped using WinZip or other zip utility. This greatly saves on your upload time, our download time, and our server space. Please note, you must zip your file before sending it to us.
Do you offer a warranty or guarantee?
No. We do not make any representations about your repaired database file, other than what is included in the evaluation. Obviously, if we are able to provide you with the evaluation information, then we are able to get into the file. This is the type of information that only someone who has access to a file without corruption could obtain.
We strive to perform a complete recovery on your database file. However, many applications that are written with a Visual Basic (or Access) front-end and an Access back-end database, may require certain objects (tables, records, fields, relationships or indexes) to run properly. If the necessary objects are not recoverable, it is possible that the application as a whole may not function properly. We make no guarantees that these particular objects are recovered. We are normally able to repair all objects when we obtain a backup copy of your database file with an identical data structure. Though we strive to completely repair your file, we make no warranties or representations other than what is included in the evaluation.
Although, the usual case is that the database is completely repaired and functioning properly, you may need to tweak your application slightly (such as add the database password back into the design, or add company information to the program) to make the database function properly once placed back into your application. If your application was written by a third party vendor, often, they will be able to take the repaired database and do the tweaking or re-integration for you, if necessary.